Ladies Aid – Lutheran Women's Missionary League (LWML)
The Ladies Aid meets the first Thursday of every month. Women are invited to gather at 9am or so for refreshments and fellowship with the meeting set to begin at 10am.  All women are invited! The women of the organization are involved in Bible study, devotions, prayers and service. Service includes doing many, many good deeds for St. John's and beyond the church through the Lutheran Women's Missionary League.
St. John's LWML/Ladies Aid New:
In July of 1942, the Lutheran Women's Missionary League or LWML was founded by 28 delegates from 15 districts in Chicago, Illinois. Today, over 80 years later, it is active in every district of the Lutheran Church-Missouri Synod.
In thanksgiving for 80 years of the LWML, all societies were encouraged to reflect God's love by blessing others with 80 of something.  The members of St. John's Ladies Aid set a goal of collecting and donating at least 80 needed wish list items to the Gift of Life Transplant House in Rochester. For over 35 years, the Gift of Life Transplant House has provided a "home that helps and heals" to transplant patients and their caregivers. The home is always in need of donated items and monetary donations to help keep the costs of providing this wonderful service at a minimum for the families going through such serious medical situations.
At the October St. John's Ladies Aid meeting held earlier this month, Ladies Aid members brought in nearly twice the goal of 80 needed items for the Gift of Life Transplant House! Thanks to Ladies Aid members, Marlys Dodd and Kathe Schroeder for delivering them to the house on Friday, October 7th. The back end of Marlys's vehicle was certainly full!
We give thanks to the Lord for the 80 years of the LWML in the Lutheran Church-Missouri Synod. We praise His name and with His guidance plan to continue to follow our motto "Serve the Lord with gladness"!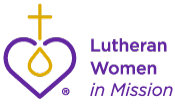 Celebrate the LORD of the Nations: Psalm 33:12-13.  Five of our ladies are attending the LWML 40th Biennial Convention June 22nd to 25th in Milwaukee, Wisconsin. Please pray for safe travel and an uplifting experience as they participate in this adventure. Also available to all of you is the opportunity to support the ladies on the "Mission Riverwalk"!  Please see Charlotte Weichmann, Bev Feine, Kathy Boettcher, Kathy Tordsen or Audrey Oehlke to help support this cause.  You can also leave any donations with Lesley in the church office.
Our Photo Gallery
2023 Honorary Members – Joyce Gilbert, Käthe Schroeder, Ardis Copple, Marlys Dodd, and Audrey Oehlke.
Not pictured are Madelyn Betcher, Ardell DeBough, and Joan Thompson.
Photos from Pastor Nick and Hannah's baby shower in September 2023
Photos from our Christmas Luncheon on December 1st, 2022
 A "SOUPER" Bowl soup collection for the Racine United Methodist Church Food Shelf, connected with Channel One, was organized by the Ladies Aid on February 13, 2022. A total of 329 cans were collected (32 more than last time!) with the final count as follows: Bengals–145, Rams–51, Who Cares–133. Although the Rams won the Super Bowl, the real winners are the many people who will have hot meals through this act of kindness. We thank Becky Fredricksen for counting the cans of soup; Kris Henke and Ray & Pam Waugh for delivering the donations to Racine UMC Food Shelf. They were very grateful for St. John's generosity. Thank you to the Ladies Aid for organizing this collection!