Rev. Justin Kumfer, Senior Pastor
Pastor Justin came to St. John's in July 2019, after serving for three years at Our Savior's Way Lutheran Church in Ashford, Virginia. He is a 2016 graduate of Concordia Seminary in St. Louis, Missouri and a 2008 graduate of Concordia University Wisconsin. From 2008 to 2011 he served as missionary in Japan where he first met his wife, Katrina. They were married in 2009. Katrina is a graduate of Concordia University Nebraska.
Pastor Justin and Katrina have four boys: Isaac (10), Kai (9), Ezekiel (7), and Oscar (5). Katrina homeschools the boys.
You may email him at: pastorjustin@stjohnsandweecare.org
Rev. Nick Wagenknecht, Associate Pastor
Pastor Nick came to St. John's in July 2023, serving in his first call out of Concordia Seminary St. Louis. He is originally from Farmington, Mn where he grew up on his family's farm. He enjoys farming, hunting, fishing, country music, sports (watching, playing, and coaching), and card games. He is a 2019 graduate of Concordia University St. Paul where he majored in Theology and minored in Coaching. There he met his wife, Hannah, who majored in Biology and minored in Dance. She enjoys reading, dance, and board games. She is a 2023 graduate of Indiana University School of Optometry and works as an optometrist in Rochester. They were married in 2021 and moved to Seymour, Indiana where Nick served his vicarage.
Pastor Nick and Hannah are excited to welcome their first child in November!
You may email him at: pastornick@stjohnsandweecare.org
Dave Erickson, Director of Christian Education (DCE)
Dave works part-time at St. John's. He is a graduate of Concordia University in St. Paul, Minnesota with a teaching degree. As DCE, Dave works primarily with the high school youth ministry and leads the men's group Bible study.  Dave and his wife Monica have two sons, Daniel and Benjamin. In addition to his work at St. John's, Dave is also a professional illustrator.
You may email him at: dce@stjohnsandweecare.org
Lesley Gommels, Administrative Assistant
Lesley enjoys cooking, baking, crafting (mostly cross stitching), and spending time with family and friends.
She joined the Church Staff in June 2022 and has been a member of St. John's since the Fall of 2002.
You may email her at: secretary@stjohnsandweecare.org
Tricia Knutson, Wee Care Director
Tricia joined the Wee Care staff in 2023. Wee Care has always been a special place for Tricia as she was a student at Wee Care in the early 1990s and a Wee Care parent from 2016-2023! She completed a Bachelor of Science in Communicative Disorders from University of Wisconsin-River Falls in 2009. Tricia completed her special education teaching licensure through Augsburg University in 2012. She completed a Master's Degree in Teacher Leadership from Augsburg University in 2013. She was a special education teacher and worked for Austin Public School district for 6 years until 2018. At that time, she stayed home with her three children and began homeschooling them.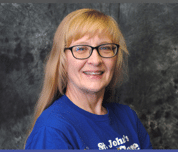 Kathy Dux, Butterfly Teacher
Wee Care has been blessed to have Kathy on staff since 1985. Living in rural Stewartville, she and her husband also have a dairy farm. They have three grown daughters, one son and are enjoying being grandparents as well. Kathy has a Minnesota teaching license and a Bachelor's Degree in Early Childhood Education. She previously taught at Kindercare Learning Center and The Learning Tree.

Caterpillar Teacher Opening
St. John's Wee Care Learning Center of Stewartville, a Christian preschool, is looking for a creative, nurturing part-time classroom teacher for the Caterpillar classroom (children ages 3-4 years). Wee Care is a Minnesota licensed childcare agency. Therefore, teachers must meet the requirements of a teacher in a childcare setting. Those qualifications are a combination of education and experience. To apply or receive more information please call 507-533-4420 or email:secretary@stjohnsandweecare.org.
Sandy Steinhoff, Assistant Teacher
Since 2001, Sandy has worked with the families and children of Wee Care.  It is her love of educating children that led her to us. She lives in Stewartville and has one daughter.