Rev. Justin Kumfer, Pastor
Pastor Justin came to St. John's in July 2019, after serving for three years at Our Savior's Way Lutheran Church in Ashford, Virginia. He is a 2016 graduate of Concordia Seminary in St. Louis, Missouri and a 2008 graduate of Concordia University Wisconsin. From 2008 to 2011 he served as missionary in Japan where he first met his wife, Katrina. They were married in 2009. Katrina is a graduate of Concordia University Nebraska.
Pastor Justin and Katrina have four boys: Isaac (10), Kai (9), Ezekiel (7), and Oscar (5). Katrina homeschools the boys.
You may email him at: pastorjustin@stjohnsandweecare.org
Dave Erickson, Director of Christian Education (DCE)
Dave works part-time at St. John's. He is a graduate of Concordia University in St. Paul, Minnesota with a teaching degree. As DCE, Dave works primarily with the high school youth ministry and leads the men's group Bible study.  Dave and his wife Monica have two sons, Daniel and Benjamin. In addition to his work at St. John's, Dave is also a professional illustrator.
You may email him at: dce@stjohnsandweecare.org
Lesley Gommels, Administrative Assistant
Lesley enjoys cooking, baking, crafting (mostly cross stitching), and spending time with family and friends.
She joined the Church Staff in June 2022 and has been a member of St. John's since the Fall of 2002.
You may email her at: secretary@stjohnsandweecare.org
Dee Radtke, Wee Care Director
Dee joined the staff in 2017 after working for ten years in the Stewartville School District. In addition to her experience in education, she has a degree in management. She loves seeing the families each day and looks forward to bringing even more fun social and educational opportunities to Wee Care. Dee lives in Stewartville with her husband. They have two sons.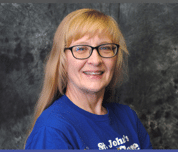 Kathy Dux, Butterfly Teacher
Wee Care has been blessed to have Kathy on staff since 1985. Living in rural Stewartville, she and her husband also have a dairy farm. They have three grown daughters, one son and are enjoying being grandparents as well. Kathy has a Minnesota teaching license and a Bachelor's Degree in Early Childhood Education. She previously taught at Kindercare Learning Center and The Learning Tree.
Lori Torgerson, Caterpillar Teacher
Lori has been on the Wee Care staff since 1997, sharing her enthusiasm for education. She and her husband live in Stewartville and have two married children. They also enjoy their roles as grandparents. Lori has previously worked with St. George's LaPepeniere Montessori Center, Kindercare Learning Center and Stewartville Early Childhood Special Education.
Sandy Steinhoff, Assistant Teacher
Since 2001, Sandy has worked with the families and children of Wee Care.  It is her love of educating children that led her to us. She lives in Stewartville and has one daughter.